Current Students
Enrich your academic experience with resources available at Georgetown University.
Master's in Biochemistry & Molecular Biology students have access to all the Biomedical Graduate Education student resources. Resources include 1-on-1 career coaching, professional memberships, mentorship program, seminars, academic assistance, and many other resources to enrich your academic experience. This program follows the academic rules and guidelines established in the Graduate School Bulletin.
Class Photos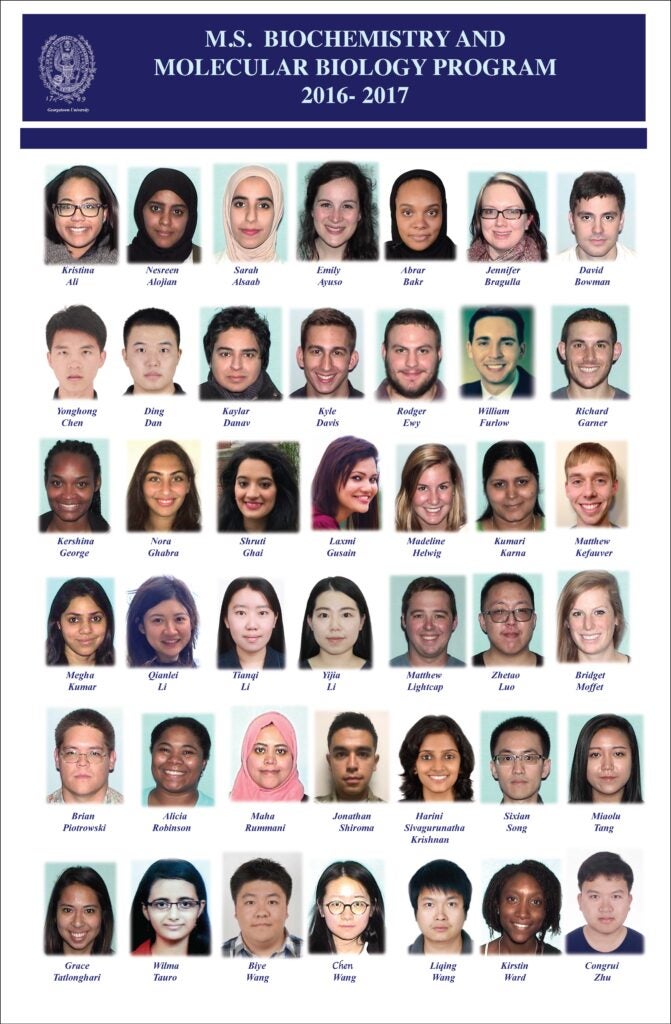 Photo Gallery
See what our Biochem students are up to!
Fall 2023 Orientation

Fall 2023 Orientation

Fall 2023 Orientation
Spring 2023 Class Photos

Spring 2023 Class Photos

Spring 2023 Class Photos

Spring 2023 Internship Presentations

Spring 2023 Internship Presentations

Spring 2023 Internship Presentations

Spring 2023 Internship Presentations

Spring 2023 Internship Presentations

Spring 2023 Internship Presentations

Spring 2023 Internship Presentations

Spring 2023 Internship Presentations

Spring 2023 Internship Presentations

Spring 2023 Internship Presentations

Spring 2023 Internship Presentations

Spring 2023 Internship Presentations
Class Photos Fall 2022

Class Officers Fall 2022

Poster Presentations Fall 2022

Poster Presentations Fall 2022

Classes Fall 2022

Classes Fall 2022

Classes Fall 2022

Classes Fall 2022

Classes Fall 2022

Classes Fall 2022

Program Orientation August 2022
Poster Presentations Spring 2022

Poster Presentations Spring 2022

Class Photos Spring 2022

Class Officers Spring 2022

Class Photos Spring 2022

Class Officers Fall 2021

Class Photos Fall 2021

Class Photos Fall 2021

Program Orientation Fall 2021

Program Orientation Fall 2021

Program Orientation Fall 2021

Program Orientation Fall 2021

Program Orientation Fall 2021
Class Photos Spring 2019

Class Photos Spring 2019

Class of Fall 2018-2019

Class of Fall 2018-2019
Fall 2017 – Spring 2018

Fall 2017 – Spring 2018

Fall 2106-Spring 2017

Fall 2015 – Spring 2016