Eden Haile (2013)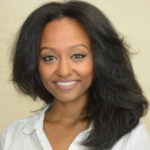 I received my Masters in Biochemistry and Molecular Biology from Georgetown University in 2013. Since then, I've had doors open for me one after the other. While taking courses at Georgetown, I completed my thesis through research I did at the National Institutes of Health.After graduation, I received an opportunity to work at Medimmune, a subsidiary of AstraZeneca, as a Research & Development Associate II. My work there included testing drug products to facilitate their movement into clinical trials. After working for a couple of years, I was accepted to medical school at Edward Via College of Osteopathic Medicine (VCOM). Now my journey is taking me to LSU at the Children's Hospital of New Orleans to complete my pediatric residency as a physician.
If it weren't for the education I received at Georgetown's Masters in Biochemistry and Molecular Biology program, I don't think I would have had all those experiences. I've seen medicine in its earliest development from learning the science at Georgetown, to pre-clinical research at the NIH, to drug development at Medimmune and finally to prescribing drugs to my future patients as a physician!
There was such a wide array of electives I could choose from to craft the learning experience I wanted. I took courses taught by physicians about cancers and histology to courses about health disparities in the United States. It is truly remarkable how far this program has taken me and how much I have learned! I genuinely believe the education and support I received from this program not only made me a strong medical school applicant but also a well-rounded future physician. I am thankful for the outstanding faculty and quality of the education that was provided. I also met so many fantastic students who have went on to pursue careers in medicine, education, science, dentistry, and even law. The opportunities after receiving a Biochemistry and Molecular Biology Masters from Georgetown University are limitless! I am so thankful I decided to make it part of my story!