Rima Nakrani (2015)
MD Candidate, Wayne State University School of Medicine, Class of 2019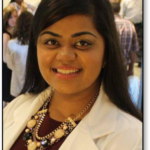 My experience in the MS Biochemistry program has been nothing short of excellent. At first, I was extremely nervous and hesitant to enroll in such an intense, rigorous, and challenging master's program but my uncertainty quickly transformed into utmost gratitude and satisfaction.
With each lab, exam, and course, I felt more empowered, knowledgeable, and successful. The structure of the program is such that students become experts in the field of biochemistry, molecular biology, and cell biology and at the same time are given the opportunity to polish their research skills and gain vital laboratory experience. Despite having a focus on core concepts, the program was very flexible in allowing me to select electives of my interest, which is where I gained advanced and specialized knowledge on specific topics such as Programmed Cell Death and Carcinogenesis.
My most memorable experience is definitely a research internship. I gained extensive research skills and laboratory experience, and can proudly claim to be more adept in the realm of Carcinogenesis, specifically, Breast Cancer. In addition to the excellent curriculum, the heart of the program lies within the esteemed, approachable, friendly, and extremely helpful faculty members. This experience has been paramount in allowing me to form long-lasting relationships with talented faculty members. The faculty truly act as mentors and are always willing to assist students and ensure they are getting the most out of their master's experience. Most importantly, the MS Biochemistry and Molecular Biology program truly prepared me for my professional endeavors.
Prior to applying to medical school, I wanted to reinforce my biomedical background and this program has allowed me to accomplish just that and much more. I am currently a second-year student at the Wayne State University School of Medicine, and I can say this from experience, that the knowledge and skills I gained throughout the MS Biochemistry and Molecular Biology program truly aided in allowing me to excel in my first two years of medical school, which focused heavily on the Basic Sciences curriculum.
In addition, I am currently applying the research and laboratory skills I gained during the program to my research on Intracardiac Thrombi. Overall, I can without a doubt affirm that my journey in this esteemed program has been very fruitful and joyous. I highly recommend this program to those seeking advanced knowledge in preparation for entry into professional programs!