Samiksha Mahaptra (2013)
PhD candidate, Cell Biology PhD program, Georgetown University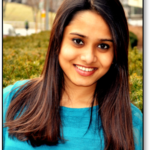 My journey at Georgetown University began when I was accepted into the Master's in Biochemistry and Molecular & Cellular Biology program during the fall of 2012. I had recently graduated with a Bachelor's degree in Biotechnology from the University of Mumbai, India and had an unquenchable thirst to learn all that the world could offer in the field of Molecular Biology. My undergraduate degree provided me with a good foundation in key subjects like Cell Biology, Molecular Biology, Microbiology, and Genetics. Although molecular biology was at a very nascent stage in India, that didn't stop me from exploring opportunities abroad to further strengthen my skills on a global platform. Compared to Master's programs at other schools, I found the program at Georgetown University to be very unique and diverse. The best part about this program was the elaborate coursework and the cutting edge research it has to offer. Their intensive coursework helps one build advanced concepts in topics like Biochemistry, Molecular Biology, Cancer, etc. The course work at GU is flexible and gives students an opportunity to choose courses based on their preferences. This helps students carve out their perfect career paths to prepare themselves for an academic or industrial setting in the future. Rather than teaching students in a classroom setting, GU offers certain courses that are taught in a laboratory, thus preparing scientists of the future one course at a time. Overall, the Master's program not only broadened my theoretical knowledge but also prepared me to independently work in a lab environment.
During my internship in the second semester, I could apply all the knowledge I gained from my lab and theory classes and saw myself gradually grow into an independent researcher. The internship is challenging. No doubt. But the professors who mentor the students during the whole term of internship teach them important skills such as troubleshooting and analyzing data and results at a much more critical level. Preparing and presenting poster presentations help students develop their writing and communication skills. After my graduation in 2013, I continued my research in the Gallicano lab at Georgetown University working as a full-time Research Assistant & Lab Manager. During this time, I was able to bring my prior lab experience and also learn new advanced techniques. I managed day-to-day lab operations, trained technicians, volunteers and students while working on numerous stem cell projects dealing with Diabetes and Cardiovascular Diseases. Further, I had the opportunity to write and present my research at various scientific meetings and conferences.
I am currently pursuing PhD in Cell Biology at Georgetown University. I wouldn't be here today if it weren't for the quality of education, network and guidance I received from the Biochemistry program during my Master's at Georgetown. My interest in Georgetown University was not only because of their excellent faculty but also their innovative biomedical research and collaboration. I was able to obtain a solid foundation in the field of Molecular Biology in order to apply my knowledge to human disease with the clinical need. The director of the Biochemistry Master's program, Dr. Cynthia Rosenthal, has been instrumental in every student's growth over the course of the program. She has always been encouraging and inspiring to all the students, including me. With the cultural diversity at Georgetown, you will have the chance to build friendships and acquaintances with fellow students all over the world, allowing you to broaden your outlook tremendously. HOYA SAXA!