Rahim Hirani (2019)
Memorial Sloan Kettering Cancer Center, New York, New York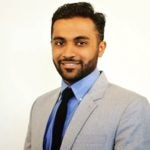 This Master's program in Biochemistry and Molecular Biology at Georgetown is one of its kind. A rigorous curriculum, unparalleled research opportunities, collaboration with higher learning institutes and companies, and Georgetown's commitment to solving significant problems in public health and medicine are a few factors that lured me to this program. Little did I know that I would leave Georgetown with the intent to apply for MD/Ph.D. dual degree programs. After immersing myself in this thoughtfully designed program and research internship, I realized that scientific investigation and clinical practice need not be mutually exclusive quests; I could pursue both elements synergistically.
The program is structured in a way that not only helped me to solidify my theoretical and conceptual knowledge but also challenged me to delve deeper into understanding the significance of the research work. I appreciated the fact that I was applying classroom knowledge in the lab. Alongside academics, I am grateful for the friendships that I have formed. Even though this program was a roller coaster ride, I enjoyed the opportunity to meet people from different countries and learn from new perspectives.
The knowledge and skills that I acquired, coupled with the strong support of my faculty and mentors at Georgetown, led me to my next journey at Memorial Sloan Kettering Cancer Center in New York City. I look forward to carrying my unique Georgetown experiences to my future endeavors.